1932
- Bought refrigerator and washing machine for $135
- Electricity from Central Illinois Public Service Co was brought
to house
- Sold the Delco Light Plant

1935


- Rented Schnelton farm

(NW of house) for 5 years

1936


- Rented J.J. Eldred

(Mound Farm) for 5 years
- Bought Ford truck from Lukemans's for $875
- Painted and repaired two north downstairs rooms and NW
upstairs room

1908
- Gave the Anti-Saloon League of Illinois $3


1909


- built new cattle barn

(Fred Barr moved saw mill into woods and sawed lumber. Frank Varble built the
foundation. Paid M.L. Reed $334 for labor. Paid $146 for roofing.)
- Charles Taylor hung paper in the house

1910
- Rented the Wheeler Farm of 116 acres
- P.L. Varble painted house and new cattle barn
- Bought stock scales from Jones of Bingham, NY for $49.12

1911
- Went to Urbana, Illinois and took short course in farming
- A Kelsey Hot Air furnace was installed in cellar
- Paid Anti-Saloon League another $3

1912


- Took 3 shares of stock in Kaiser Elevator




Established by Land Grant in 1821
Generation III

ROBERT THOMAS BLACK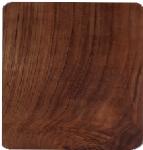 Robert Thomas Black was born in the NW room downstairs at the Homestead on April 13, 1876, the son of Thomas Black and his third wife Martha.

In his autobiographical sketch, Robert Black recalls some highlights from his early life:

"1879 - My father quit farming and had a sale west of the road in an old 30 acre blue grass pasture. I being 3 years old was taken over there during the sale and wore a red vest over my dress of which I was very proud and well remember the sale."
"Jan 1884 - My father and mother and we three children went to New Orleans to see father's cousin John Hobson, his wife and the four children John, Florence, Mary and Walter. They live in sight of Gen. Lee's monument on I think canal Street. It was unveiled while we were there on a rainy day. We saw the Mardi Gras parade and visited Lake Ponchatrain. Mr. Hobson and my father played chess some and went down to the mouth of the Mississippi river. When we got back to Ill. it was very cold and a big snow on the ground."

"Oct 1884 - Took sick with typhoid fever and was sick a month. Was not expected to live for 3 days. Was never fleshy after that."

"1894 - Planted 6 acres of corn and bought my first bicycle with the money. Was in a bicycle race around the "mound" 6 1/6 miles. I tried to turn the corner at the M.E. church too fast and fell bending my handle bar and think had I not fallen, would have made the best time, but it was made by Ned Sharon in 17 min 45 sec. My time was 17 min 57 sec. These were the best records ever ridden around the mound. Rode a mile a the Fair Grounds in 2:19. Won the mile handicap race at Greenfield in 2:38."
SOME DOCUMENTED EVENTS IN ROBERT T. BLACK'S LIFE…


1901


- Returned to Carrollton from the Philippine Islands on July 6

(The farm had been rented to David Stout for the
past five years. Worked for his brother-in-law, Arthur T. Secor, east of Carrollton, until the fall of 1903 when he
went to farming with Richard H. Angle, his brother-in-law, on the O.T. Simonds farm south of Mt. Gilead. He
farmed there for one year.)

-

Paid Dr. Koppert $15.50 for filling teeth

(He said his teeth must have been broken from eating so much hard
tack in the Army.)
- Miss Lucy Eva Barnett first saw Robert when he was helping to dedicate the cannon in the Courthouse yard
in Carrollton on September 28
- Purchased $1000 life insurance policy at New York Mutual Life, paid $52.95 a year for 20 year endowment
policy

1904

- Bought a second horse for $65
- Went to Louisiana Purchase Exposition
(Worlds Fair)
in St. Louis
Eva and Robert on their
wedding day in 1905

"I was a very fleshy boy and on being taken to the Greene Co Fair afterwards was placed by mother at the side of a fat man in a show."
"Sep 1880 - My brother Russell and sister Ella started to school at Centerville. This made me quite lonesome and I remember playing with my father's bee hives in the front yard. Father had a bee yard full of bees just NE of our house."
"Sep 1881 - Started to school with Russell and Ella, being only 4 years old. Think my mother wanted to get rid of me for part of the time. I remember some of the boys wanted me to fight my cousin Edward B. Cullimore, who was older than I, over at a hay stack in Mr. William Thomas' field. He bloodied my nose the first lick and I had enough. My nose bled very easy for many years afterward. Never did pick a quarrel during my life, but had to defend myself many times afterward, but never was defeated after that first fight."
"1893 - Began my first crop of corn by planting the old orchard north of the house being 4 acres. Worked some for John Flaherty and got enough money to go to the World's Fair at Chicago. Stayed two weeks with brother Kent on Lake Ave. Learned a lot about Chicago and well remember the many buildings of the fair in Jackson Park."
CHILDREN OF ROBERT THOMAS AND LUCY EVA BARNETT BLACK
NAME
1. Thomas Jefferson

2. Esther Louise

3. Ella Lavina

4. Kenneth Wilbur

BORN - DIED
29 Oct 1905 - 5 Oct 1963

31 Oct 1907 - 2 Dec 1974

14 Jul 1909 - 7 Jan 2007

24 Sep 1910 - 22 Jun 1981

MARRIED
Nellie Virginia Simonds, 1929

Clayton McLain, 1930

unmarried

Alta Edna Jane March, 1937

ISSUE
1 son, 2 daughters

none

none

2 sons

1905

- Bought a majestic range- Married Lucy Eva Barnett on January 15 at her
family home near Rockbridge (They had a livery carriage from Ed Johnson's
livery stable drive them home after the wedding. Cost of the carriage was $6.
Some friends tied old shoes and tin cans to the carriage and they drove through
Carrollton with them dragging.)

- Bought 2 bedroom suites, 3 tables, 1 mattress, 1 set dishes, 1 carpet,
1 set chairs and 2 rockers from Montgomery Wards for $150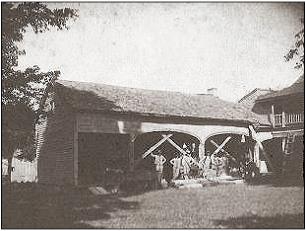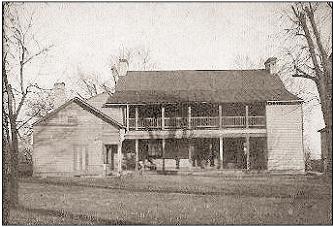 The wood shed/carriage house was attached to the wash house from 1855 until it was moved in 1909
Homestead House circa 1910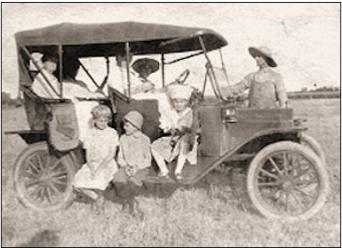 Robert Black and family in
Ford Model T circa 1916

1916
- Robert, Eva, Thomas and Esther drove to Chicago on all dirt
roads (Ella and Kenneth stayed with Grandmother Barnett)


1917

- Bought Schiller Player piano for $555

- Plaster work done in house and cement work on farm
1914


- Bought Model T Ford from the Barnett Motor Company

(his first car) for $539.20

1915


- Elected school director for Centerville School

(Served for 15 years)

- Silo was erected at NE corner of cattle barn for $393
- Received $50 rebate from Ford Motor Company after they sold 500,000 cars in 1914
1918
- Installed water system in house and to fields for stock water
- Bought pony named Isabell for $90 for children
- Bought Nash car from Barnett Motor Co. for $1465

1919
- Elected a director of Carrollton Farmers Elevator Co.
- Bought first truck from Barnett Motor Company for $558.61
- East and south porches built on house by Fred Ellers
- Purchased another car for children to drive to school
- Paid first income tax of $150 in Mar and $301 in Sep
= Bought four more shares in Carrollton Elevator

1920
- Elected Secretary/Treasurer of Carrollton Elevator
- Silo erected at NE corner of cattle barn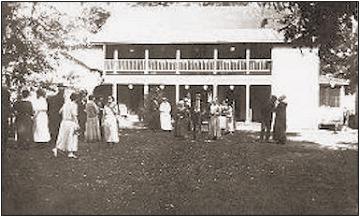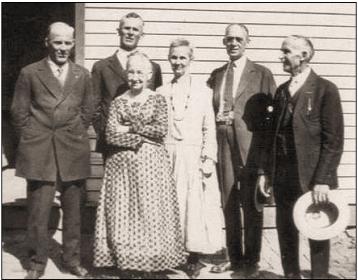 Kenneth, Esther, Ella, Thomas
1923

- Hosted family reunion at Black Homestead Farm


1924

- Bought radio from A.W. Bechdolf for $32
Surviving children of Thomas Black in 1923
L to R: Kent Black, Robert Black, Hattie
Black Keeley, Ella Black Angle, Russell
Black and Charles Black

Centerville School after tornado in 1927
Black Homestead Farm cattle barn and silo after tornado in 1927
Robert and Eva Black circa 1950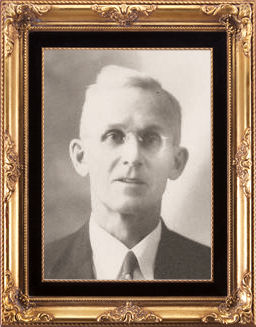 1955

- Robert and Eva celebrate 50th
wedding anniversary
- Lucy Eva Barnett Black died in
Jacksonville hospital on April 14


1961

- died January 13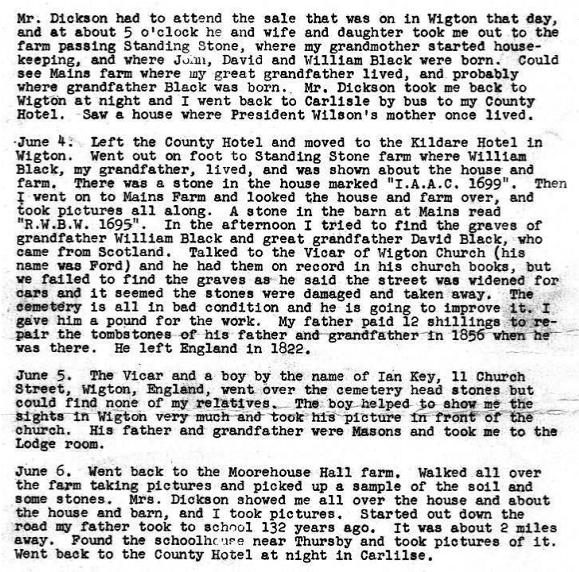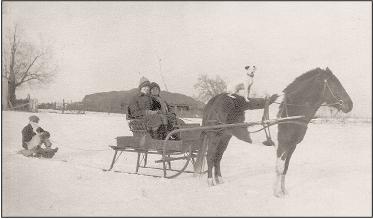 Kenneth, Esther and Ella
with Isabell
(pony)
and Trix
(dog)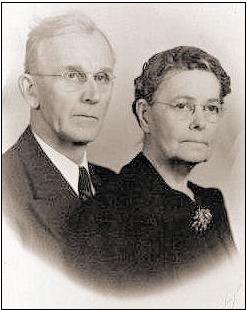 Robert served in the Spanish-American War in 1898 and the Philippine Insurrection from 1899 to 1901. After returning from the Philippines, Robert began to operate the farm on a full time basis and continued his involvement for the next 60 years.
In the early 1900s Robert made several changes to the property. In 1904 he bought out his brothers half interest in the 143 acres of the farm that remains today as the Black Homestead Farm. In 1907 additional drain tiles were installed in the field to the south of the current farmstead. The carriage house/wood shed was moved in 1909 from its location attached to the northwest corner of the house to its current location north of the house. The cattle barn was built in 1909 at a cost of about $500. Robert was a very progressive farmer and was always interested in using the latest inventions on the farm. He installed a Delco Light Plant in the home in 1918, one of the first electric light generators in Greene County. He was also one of the first farmers to have a gasoline powered tractor

(an International Harvester 15-30 Titan)

purchased in 1918 for $1485. That price also included a three bottom plow. In 1918-1919, Robert was instrumental in forming the Carrollton Farmers Elevator Company and was elected a director in 1919 and was elected as treasurer in 1920. In 1919, the south and east porches to the house were constructed. In 1924 Robert bought another International Titan 15-30 tractor for $1150.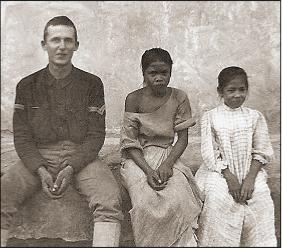 Robert in the Philippines, 1900
- Bought one share of stock in Carrollton Elevator
- Dug out yard well from 5 in to 10 in and 28 ft deep
- Loaned $4,000 to Farmers Elevator

1927
- April 19, tornado hits Centerville school and farm causing
$3,000 damage to cattle barn and silo (Robert and son
Thomas were first to reach destroyed school. All students
survived, however teacher Miss Annie Keller was killed. Silo was
not replaced when barn was rebuilt.)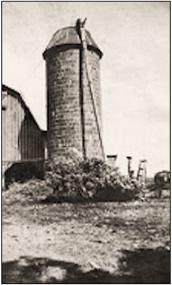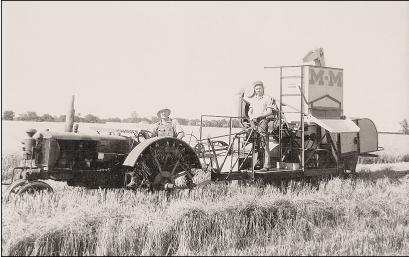 1937


- House was painted

(Paid $775 to Independent Heating Co of St. Louis for steam heating furnace and
radiators for house.)
- Refinished kitchen and SE room upstairs

1938
- Bought 4 door Buick car

1940
- Eva went to Mayo Clinic in April on train from Springfield
- Barn roofs painted for $95


1941
- Bought linoleum for kitchen and pantry for $100

1942
- First year since 1903 that no money borrowed for annual farm operation

1943
- Paid Dan Bryant $102 for clearing woods

1945


- Moved corn crib near road east of crib at cattle barn

(The crib had been where pine trees are currently
located.)
- Bought corn elevator for $400

1946


- Painted cattle barn and five buildings for $425

(Also had house painted for $425.)

1947
- Bought new Oldsmobile for $2,150

1948
- Bought electric pump for celler for $134
- Bought oil burner furnace and two tanks (Possibly the same furnace still in basement.)

1952


- Takes trip around the world, alone

(Visits Cumberland County, England where Margaret Black and family
lived before migrating to America.)

Following are excerpts from Robert's world trip journal: