Established by Land Grant in 1821

Generation IV

KENNETH WILBUR BLACK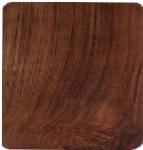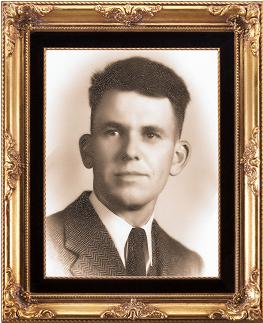 Throughout their life together, Kenneth and Jane enjoyed going to estate auctions where they would purchase dilapidated antique walnut furniture at unbelievably low prices. Making use of his natural talent for wood working, Kenneth spent hours refinishing the furniture.

In 1972, Kenneth and Jane moved from the Mound Farm to the Black Homestead Farm. They renovated the house and decorated it with their magificent collection of antiques, making it one of the most admired historical homes in Greene County. As a result of their efforts, the Black Homestead Farm was listed as an Illinois Centennial Farm in 1973.

Kenneth Wilbur Black, the fourth and youngest child of Robert and Eva Barnett Black, was born September 24, 1910 at the Black Homestead Farm.
Following high school, Kenneth wasn't sure he wanted to farm for a living because of the extra work involved with caring for a team of horses at the end of each day after a full day of picking corn by hand and hauling the load by wagon. Inspired by Charles Lindberg's solo flight across the
Atlantic, he considered pursuing a career as an aviation mechanic. However, due to severe economic conditions during the depression along with his father's timely purchase of a mechanical corn picker, Kenneth decided to stay with farming.

In 1928, Kenneth and his lifelong friend George Cummings attended Civilian Military Training Camp at Jefferson Barracks, Missouri for several weeks. Shortly thereafter, they took a trip to Yellowstone Park in his Model A coupe.

On November 20, 1937, Kenneth married Alta Edna Jane March

(daughter of Dr. S.F. and Alta Witt March)

at the Methodist parsonage in St. Charles, Missouri. They made their first home in an apartment in Carrollton until they moved into the tenant house located near

(just north of)

the Homestead house in 1938.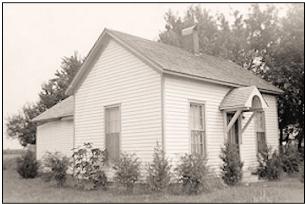 Black Homestead Farm Tenant House
On April 19, 1927, Kenneth was attending high school in Carrollton. He arrived home for lunch immediately after a tornado hit and destroyed the Centerville Schoolhouse.
He would later recall the damage left behind, which included a destroyed barn and silo at the Black Homestead Farm.
After farming with his father since the 1930s, Kenneth began farming on his own in 1946 when he took over operation of the Mound Farm. He and Jane moved their family to the Mound Farm house in November 1946.

Since Robert was more or less retired by then, Kenneth's older brother Thomas took over running the Homestead Farm plus the Wheeler farm where he and his family lived. Kenneth and Thomas formed a 50/50 partnership related to owning the larger farm implements such the combine, hay baler and corn picker. In addition, when tasks related to these implements came up, each would help the other (combining wheat, oats or soy beans, baling hay or picking corn)

. Unfortunately, the agreement fell apart after a few years, at which time Kenny purchased his own implements.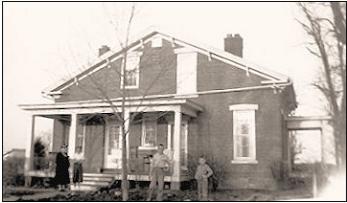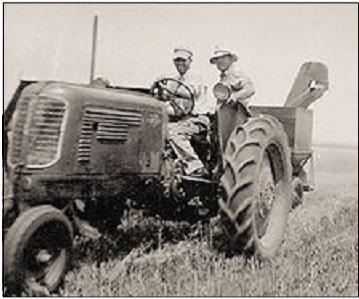 Kenneth and his brother Thomas
CHILDREN OF KENNETH WILBUR AND ALTA EDNA JANE MARCH BLACK
NAME
1. Kent March

2. Stephen Franklin

BORN
25 Oct 1939

5 Nov 1945

MARRIED
Karen Anne Jones, 1960

Licia Kathleen Barthi, 1972

ISSUE
2 daughters

1 son, 1 daughter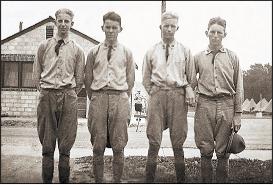 Kenneth
(second from left)
at
Civilian Military Training Camp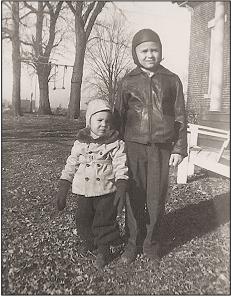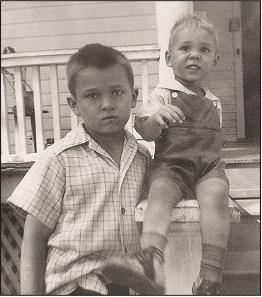 A strong believer in hard work, absolute honesty and helping one's friends and neighbors, Kenneth strived to install these values in his children. He also taught them not to expect handouts and to earn their own way in life.

When his father died in 1961, Kenneth and his brother Thomas each inherited a 3/8 interest in the Black Homestead Farm. His two sisters, Esther and Ella, each inherited 1/8 interest. Due to a family dispute, the farm was put up for auction in the summer of 1964 (following Thomas' death the previous year)

so that Kenneth could purchase his brother's 3/8 interest. His sisters retained their interests until their deaths.



Kenneth died June 22, 1981.

Jane died January 12, 1986.

Kenneth served as a director on the Carrollton Bank Board, an officer on the Carrollton Farmers Elevator Board and as a Greene County Service Company Board member. He was also a Farm Bureau member for many years.

In the summer of 1966, Kenneth had a heart attack but recovered quickly and continued to farm. A second heart attack in 1974 forced him into retirement. August 17, 1974 was a very difficult day for Kenneth. That day, he sat in a lawn chair watching his lifelong accumulation of farm tools and implements sold at auction.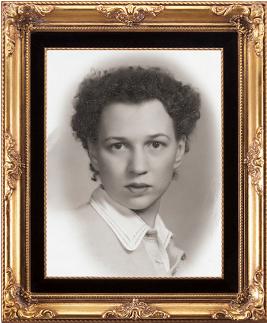 Alta Edna Jane March Black